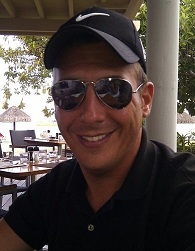 Amateur Radio Station in Napoli - Italy
ITU Zone: 28 - CQ Zone: 15 - Locator: JN70ct
About me
I'm Fabio, I was born in 1981 and now I'm 40 years old. I obtained the Radioamateur license in 1999 when I was 18 years old with previous callsign IW8EQD but I'm on the Radio since 1994 thanks to my father Luigi (aka Gigi) that given to me this passion. I started the Ham Radio DX activity from June 2007 when I received the new callsign IZ8MBW. I was born and I live in Napoli (Naples in English) in south west coast of Italy. My preferred band is HF and I mostly operate in SSB and Digital Modes (RTTY, PSK, MFSK, etc.).
Member of ARI, EPC #5535, DMC #1924, FH 2153, 30MDG #2794.
My province for the WAIP (Worked All Italian Provinces) Award is NA.
I operate also from my old high school "I.T.I.S. A. Righi e VIII" with IZ8NIR callsign.
I work as IT Infrastructure Engineer at Hitachi Rail STS. I mostly work on Servers systems.
Previously I worked for an Information Technology company as Systems Administrator. I mostly worked on SPARC and Intel Servers running Sun Solaris (Oracle), Linux and Windows. I worked also on Cisco and Juniper Router/Switch.
Other hobbies are Music, Film and cars: I love my Alfa Romeo 147 JTD 16V MultiJet 140 BHP.
Many thanks to my wife Michela!
Radio equipment:
Icom IC-7300
Yaesu FT-857D
Perseus SDR Receiver
Yaesu FT-920
Icom IC-2710H
Yaesu FT-530
Icom IC-T22E
Puxing PX888
Yaesu VR-500
AOR AR-2800
Degen DE1103
Antennas:
3 element Yagi for 10, 15 and 20 meters bands
5 element Yagi for 6 meter band
Rotative dipole for 12, 17 and 30 meters bands
Diamond W-735 inverteed V dipole for 40 and 80 meters bands
Diamond X-510 vertical for VHF and UHF
(A special thanks to Salvatore IZ8GGF and Paolo IZ8FDH for antennas setup!)
Microphones:
Actually I'm using Behringer B-1 and Yaesu MD-100 in the same time mixed by Behringer XENYX 802 Mixer
Headset: Heil Sound Pro Set with HC-5 element
HF Antenna Tuner: MFJ-948
Coaxial switch: Maver R6
Antenna Rotor: Yaesu G-450XL
Power Supply:
Daiwa PS-304 (out of order at moment)
Nissei MS-280A
Proxel 832-NFA
Filter: Drake TV-3300-LP Low Pass Filter
Logging and CAT Software: Logger32
Digital Modes Software:
Logger32 (using the embedded MMVARI Engine)
Fldigi
Post Contest Software:
Contest LogChecker
My Awards (all only via LoTW credits):
DXCC Mixed
DXCC Phone
DXCC CW
DXCC RTTY (Digital)
DXCC Challenge
DXCC 40 Meters
DXCC 30 Meters
DXCC 20 Meters
DXCC 17 Meters
DXCC 15 Meters
DXCC 12 Meters
DXCC 10 Meters
WAS
My station LOG is available in
Home Page
and on
Club Log
, both updated in real-time! I'm a LoTW (Logbook of the World) user so I confirm all my QSOs, however I like to confirm QSO also via send and receive a paper QSL card. QSL is via Bureau, via LoTW or via direct. I hope to meet you on the air. SWL reports are the welcome. Best 73 de Fabio, IZ8MBW.
For more informations you can contact me via email at iz8mbw ]at[ gmail.com.
---
I don't ask for money for any guides and info provided, but if you want you can offer to me a beer. Thanks!